Community Groups
Community Groups meeting at Wereham Village Hall. Click here to see information about Local Wereham Activities.
Craft Group
Second Tuesday of every month in the village hall 10.30am until 12.30pm
We are a group of crafters, not everybody makes things, some just come for the social! We make and sell crafts to raise money for the village hall and other worthwhile charities.
We meet up once a month for a get together and a natter along with the compulsory tea, coffee and cake. Apart from that we all work in our own homes at our own pace with whatever craft we do.
New crafters will always be welcome especially if your craft is something other than knitting or sewing, guest speaker / demonstrators are welcome and enjoyed, so please do get in touch.
Contact: Rosemary on 01366 501330 or 07749240606. E-mail rosemary.pease@btinternet.com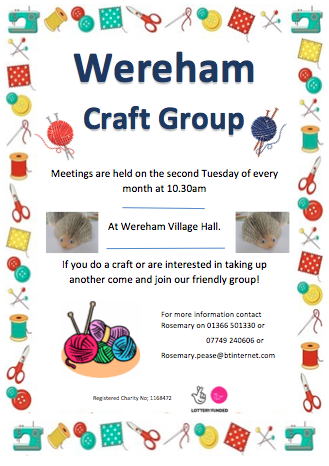 Friends of Wereham Village Hall Group
Monthly, Community Room.
We meet once a month on a Monday night in the community room at 7-30 .
Group of friendly fundraising volunteers who meet to discuss new ideas and organise events to raise funds for the village hall. New members welcome to pop in or to add yourself to the 'Friends of' email list for updates on coming events, help needed and dates of the next meeting.
Contact: Doreen Rolph- 01366 500218 or email doreenirolph @talktalk. net
Heritage Group
Meet monthly, please click here to go to the Heritage Page.
Parochial Church Council
St Margaret's Church, dedicated to St Margaret of Antioch, is a medieval Grade II* listed church in the centre of the village of Wereham.
The parochial church council meets 6 times a year and has an annual meeting which is open to everyone. The village hall often hosts church meetings including, The Harvest supper, cafe type facilities for Open Gardens, one of the main fundraising activities, and for the regular Messy church events.
Everyone is warmly welcomed to all events and meetings.
Church warden. Sheila Smith. Tel 01366 858165
Vicar Rev'd Ken Waters. Tel: 01366 727220
Secretary of parochial church council Christine Clere email thecleres@aol.com
Short Mat Bowls
Weekly – Main hall
We meet on a Thursday evening 7pm until 9pm. We play for the enjoyment of it and we are a very happy and welcoming group of people with lots of joking going on throughout the evening the cost is £2.00 per player, spectators are free and tea or coffee and biscuits are served during the evening.
We will always welcome new players, please come along and give us a look to see what you think.
Contact: Philip on 01366 501330 or 07759033492. E-mail rosemary.pease@btinternet.com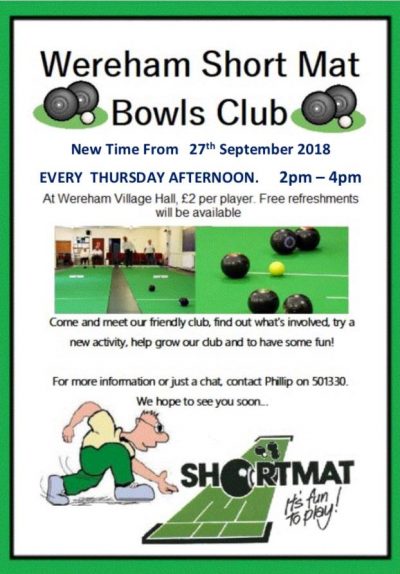 Social Group
New Social Group. Details to follow.
If you would like to volunteer or register your interest, please contact Lead Volunteer Sue Candler on 01366 858237 or email ticktockhouse@aol.com
Messy Church
Thursday evenings, bi-monthly in the church.
Messy Church is a member of the world wide Messy Church group. It's for everyone in Wereham and local villages who wish to take part in a very family friendly worship.
It is held every 2 months on a Thursday evening 4-6pm. Starts in St Margaret's church where children often lead part of the service with readings and playing musical instruments. Is free to all, donations for the church are welcomed.
Each event is carefully planned by a dedicated group of Wereham villagers.
Open to all. Everyone is welcome.
Contact: Debbie or Ian Rye, The Old Chapel Wereham tel 07863049677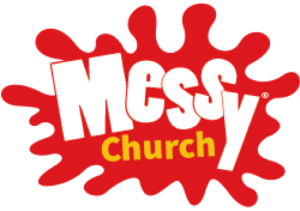 Neighbourhood Watch
Wereham Neighbourhood Watch AGM in the hall annually in March in the community room.
For more info, contact Tom Golden on tomgolden09@btinternet.com